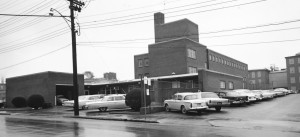 The new jail was dedicated on this day in 1953.  The new jail was located at Church and First Street, behind City Hall.
The jail moved from its previous location on the corner at West Fifth and Main Streets.  The old jail was slated for demolition soon after the new jail was occupied.
Photo courtesy of Forsyth County Public Library Photograph Collection.