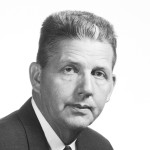 Wayne Arthur Corpening was born on this day in 1914, in Henderson County.
Corpening graduated from N. C. State University with a degree in animal husbandry.  He worked as an agricultural-extension agent.  He also served in the 39th Infantry Regiment, 9th Infantry Division, in World War II.  He was a decorated soldier, receiving four Bronze Stars, the Legion of Merit, and the Silver Star.
He also worked as a vice president of Wachovia Bank.
Corpening was elected Winston-Salem's 16th mayor in 1977, and served until 1989.
Some of the projects Corpening pushed for are the Interstate 40 bypass, Joel Coliseum, Stouffer Winston Plaza Hotel, and funding for the Muddy Creek wastewater-treatment plant.
Corpening had a reputation as a gentleman who liked to work behind the scenes.
Corpening Plaza, the water park on the south side of One Triad Park, was built in 1987 and was named in honor of the mayor.  He passed away in 2004.
Photo courtesy of Forsyth County Public Library Photograph Collection.