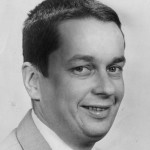 Roy Thompson was born on this day in 1923, in Winston-Salem, to Dr. L. R. and Sarah Thompson.  He graduated from R. J.  Reynolds High School and UNC.
Roy joined the Winston-Salem Journal in 1947.  He became the Journal's first local columnist when he started writing his "Feedbox" column in 1950.  He also covered all types of stories, people, and events during his career.  Roy was known for his intellect and dry wit, and had a large following throughout his nearly 40 years as a journalist.
We wrote a 52-week series for the Journal during the nation's bicentennial celebration in 1976.  This series was combined into a book titled, "Before Liberty."  He also wrote a book about the novelist Inglis Fletcher, called "Mrs. Fletcher's Eden."
Roy retired from the Journal in 1985, and he passed away in 2007.
Photo courtesy of Forsyth County Public Library Photograph Collection.