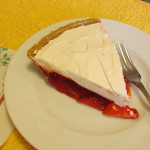 For an easy home-cooked dinner, prepare the pork chops and put them in the crock pot to cook all day.  The meat will be fork-tender.  Serve with a green salad or a vegetable.  Make the strawberry cheesecake earlier in the day and chill.  Enjoy this easy and delicious meal!
Crock Pot Pork Chops and Rice
Ingredients:
6 to 8 lean pork chops, 1-inch thick
1/2 cup flour
1 Tbsp. salt
1 1/2 tsp. dry mustard
1/2 tsp. garlic powder
2 Tbsp. vegetable oil
2 cans chicken and rice soup
2 cups water
Directions:
Dredge pork chops in mixture of flour, salt, dry mustard and garlic powder.  Brown in oil in large skillet.  Drain on paper towels.  Place browned pork chops in crock pot.  Add soup and water.  Cover and cook on low for 6 to 8 hours.
Note: The amount of soup and water is variable for personal preference.  Also, if fewer pork chops are cooked, the flour mixture can be halved.
Strawberry Bottom Cheesecake Pie
Ingredients:
1 graham cracker pie crust (regular or extended size)
4 oz. cream cheese, softened
¼ c. sugar
½ c. sour cream
1 tsp. vanilla
4 oz. carton Cool Whip, thawed
1 pt. fresh strawberries, thinly sliced
1 c. strawberry glaze  * see note
Directions:
Beat cream cheese until smooth.  Gradually beat in sugar.  Add sour cream and vanilla.  Fold in Cool Whip.  Spread thin layer of glaze over bottom of crust.  Place strawberry slices on glaze and cover with remaining glaze.  Gently spoon cream cheese mixture over glazed berries.  Cover and chill until set, at least 4 hours.  Refrigerate leftovers.
Note:  If extended pie crust is used, add the entire 13.5 oz. container of glaze, putting 1/2 on the bottom of the shell, and 1/2 on the top of the strawberries.
Enjoy!