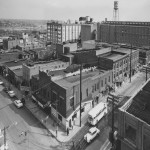 On this date in 1969, the Board of Aldermen authorized the sale of the block bounded by Church, Third, Fourth and Chestnut Streets to the D. L. Phillips Investment Builders of Charlotte for $266,000.
Studies were underway to determine the size of a building that was planned for this location.  The building was named the Phillips Building.  Today the Sheriff's Department is located in the Phillips Building.
The photograph above shows the block of businesses that was demolished, looking at the corner of  Chestnut and Fourth Streets, facing east.
Photo courtesy of Forsyth County Public Library Photograph Collection.