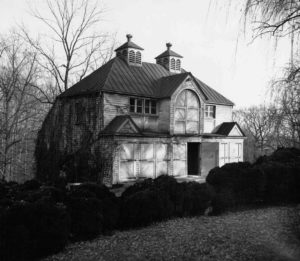 At the corner of S. Church and Bank Streets, slightly below the Moravian Archives and down the hill from Cedarhyrst, resides a structure that was built in 1893.  Dr. N. S. Siewers built the home and the carriage house that still exist on the property.
The structure shown above was the carriage house for Dr. Nathaniel Shober Siewers, a family doctor.  It was quite common for him to be called out at all times of the day and night, so he made sure that his carriage, horses, and driver were all ready to get him on the road to attend his patients.
The carriage house is a large, frame structure that is supported on heavy beams.  The horses were stalled in the lower part of the carriage house, buggies and carriages were garaged on the next floor, and in the hayloft were quarters for the driver.
There was a copper tube telephone system that connected between the home and the carriage house so that the doctor could call his driver at any hour to prepare the horses for an errand of mercy.
Bishop J. Kenneth Pfohl lived in the house after Dr. Siewers.  The Pfohl children played in the carriage house with their friends, and the boys operated an electric model train in the hayloft.  The children held parties there when they were older.
A 1950 newspaper article showed a photo of the house and it was covered with ivy and inhabited by squirrels and pigeons at that time (shown above).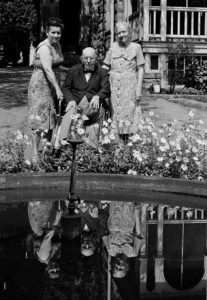 Slightly above the carriage house is a water fountain and a pool that was used for harvesting ice during the winter months. The photo above shows the pool and the back of Cedarhyrst.  Also shown are Ruth Pfohl Gramms, Bishop J. Kenneth Pfohl, and Mrs. Bessie Pfohl.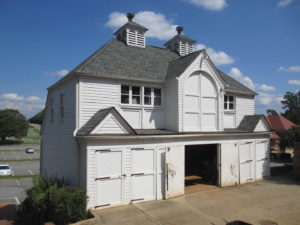 Today the carriage house still stands, and it is used for storage.
Cedarhyrst, the house, is owned by the Moravian Church and is used for offices.
Black & white photos courtesy of Forsyth County Public Library Photograph Collection.  Color photo by Molly Grogan Rawls.
Stay tuned for the next historical post on October 15th.