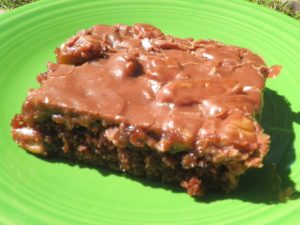 Texas Sheet Cake is a dessert for all seasons.  It's a combination of chocolate cake and pecan chocolate fudge.  Serve it with vanilla ice cream or vanilla bean gelato and you have a dessert that can be dressed up or down for any occasion.  It's easy to put together and it travels well.
Texas Sheet Cake
Directions:
Boil for one minute: 2 sticks margarine or butter, 1 cup water, and 4 Tbsp. cocoa.
Remove from the heat and add:
2 cups flour
2 cups sugar
½ tsp. salt
2 beaten eggs (make sure the eggs are not added alone to the hot mixture)
8 oz. sour cream
1 tsp. baking soda
Stir mixture well and pour into a greased 15 ½ x 10 ½ x 5/8 in. pan (cookie sheet with sides).  Bake 20-25 minutes at 375 degrees.
Ice the warm cake.  While the cake is baking, begin preparing the icing.
Boil: 1 stick margarine or butter, 4 Tbsp. cocoa, 6 Tbsp. milk.  Boil one minute and keep stirring.
Add: 1 box confectioners' sugar (4 cups), 1 tsp. vanilla, and 1 cup chopped nuts (roast the nuts if possible).
Spread the frosting over the warm cake. Let the icing cool before cutting the cake.
Enjoy!
Stay tuned for the next historical post on October 1st: