Enjoy a taste of springtime with this congealed salad.  This make ahead dish is perfect with a variety of entrees.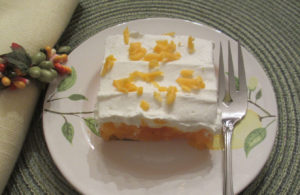 Mandarin/Pineapple/Marshmallow Congealed Salad
Ingredients:
1 3 oz. box lemon Jello
1 3 oz. box orange Jello
2 11 oz. cans of mandarin oranges, drained
1 20 oz. can crushed pineapple in its own juice, undrained
1 bag of miniature marshmallows
1 12 oz. container Cool Whip
Shredded cheddar cheese
Directions:
Dissolve the lemon and orange Jello in 1-1/2 cups of boiling water.  Add the drained mandarin oranges and the crushed pineapple with the juice to the Jello mixture.  Pour the mixture into a 3 quart dish.  Let the mixture congeal slightly, and then add a layer of marshmallows to the top.  Congeal until firm.  Spread the Cool Whip over the top.  Sprinkle shredded cheddar cheese over the top.  Keep refrigerated.
Enjoy!
Stay tuned for the next historical post on April 1st.