The Moravian influence on Winston-Salem is very obvious at Christmas.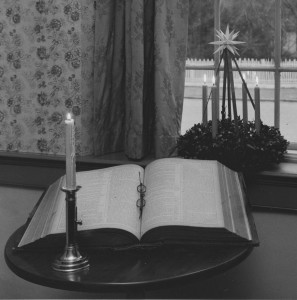 For many people, the Christmas season begins with a visit to the Candle Tea in Old Salem.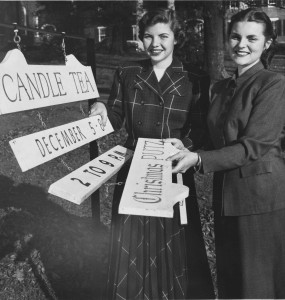 In the Brothers House, visitors are invited to join in the Christmas carols accompanied by an organist.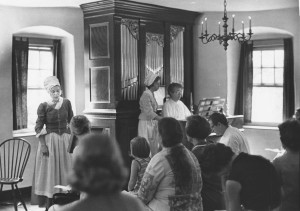 Moravian women demonstrate how beeswax candles are poured. removed, and then trimmed.
Many school groups, boy and girl scouts, and families come to the Candle Tea.  All visitors see the putz, a scale reproduction of Salem village, and the nativity scene.
Each visit ended with a warm cup of Moravian coffee and a delicious piece of sugarcake, and a candle to carry home.
The Moravian Star is a familiar sight in street and home decorations.  Harry Lineback made the stars using patterns and forms.  The process is tedious but the results are stunning.
Downtown Winston-Salem is decorated with Moravian Stars, as are homes and businesses, as shown in this 1966 view of West Fourth Street looking east.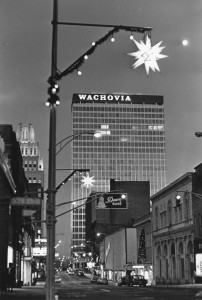 Moravian love feasts are held throughout the year, but the Christmas Eve love feasts have been a tradition for Moravians and non-Moravians for years.
The love feast buns and the cups of warm, sweetened coffee, plus the children's choirs singing "The Morning Star" lead to the ending song as "Joy to the World" or "Hallelujah, God With Us"is sung with upraised candles.
The love feast never fails to remind us of what Christmas is all about.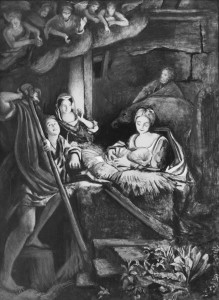 Merry Christmas and Happy New Year!
Photographs courtesy of Forsyth County Public Library Photograph Collection.
Stay tuned for the next historical post on January 1, 2016.