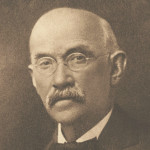 Henry Dalton Poindexter was born on this day in 1849, in Yadkin County, to Robert C. and Martha Ward Poindexter.
He attended East Bend Private School, but left school before he completed his education.  He helped his father in his general store in East Bend.  As a young man, Henry traveled west and spent some time beyond the Rockies, seeing California and other states.  Then he returned to East Bend.
Henry came to Winston-Salem about 1871 and worked for a general merchantile business.  About 1881 he opened his own business, and later moved to 411 North Trade Street.  It was called a hardware store, but it carried everything in the dry goods, notions, and grocery lines that a customer might want.  And, he also carried feed, fertilizer, and home and farm supplies.
Trade Street at that time was named Old Town Street.  Piedmont Tobacco Warehouse was on the corner of Fourth and Trade Street.  Farmers came to town to sell their tobacco, and often spent the night in one of the boarding houses in town.  They boarded their horses in the stables, they ate at the cafes, and they bought provisions to take home with the money they earned from selling their tobacco.  Old Town Street was renamed Trade Street, to reflect the true business of the street.
Henry retired from business about 1910.  His home was located on the corner of West Fifth and Spruce Streets.  The house was removed to a lot nearby, and Integon built an office building at this location.
Henry married Augusta Miller in 1874 and they had nine children  He passed away in 1922.
Photo courtesy of Forsyth County Public Library Photograph Collection.