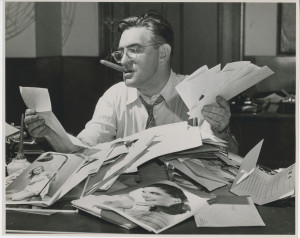 Gowan Hughes "Nutt" Caldwell was born in Durham in 1902. He moved to Winston-Salem as a child and graduated from R. J. Reynolds High School. He served in World War I, dropping out of high school, then returning later to finish his degree.
In 1923 he opened the city's first service station at Burke Street and Brookstown Avenue. In 1925 he joined the staff of the Winston-Salem Journal as sports reporter. He worked in that capacity for six months, then to September 1936, Caldwell was the crime and police reporter for the newspaper. In 1936 he became state editor for the Journal and in 1958 he was named state editor for the Journal and Sentinel.
He retired from the newspaper in 1967, but returned often to fill in for other staff members. He died in 1973.
Photo courtesy of Forsyth County Public Library Photograph Collection.