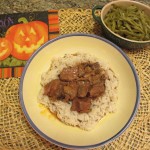 Not a lot of trouble.  
Pull out the cauldron and light the fire for a frightfully good beef stew.  If your cauldron is out of commission, a crock pot is a good replacement.  This is an easy meal to prepare, and it is especially welcome on cool, autumn evenings.
Beef Stew
Ingredients:
2 lbs. boneless beef stew meat, cut in 1 ½ in. cubes
1 can cream of mushroom soup
1 pkg. Lipton's beefy onion soup mix
1-2 c. water
1 pkg. or jar sliced mushrooms
Directions:
Combine soup, soup mix, and water in a bowl until smooth (a whisk helps).  Add beef and mushrooms, then mix to coat.  Pour mixture into a crock pot and cook 6 to 8 hours on low.  The dish can also be baked in a casserole dish for 3 hours at 350 degrees.  The stew can be served with noodles or rice.  Add a green or fruit salad or a vegetable to complete the meal.
Enjoy!