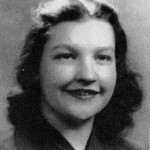 Laurie Carolyn Pratt was born on this day in 1923, in Forsyth County, to Eugene C. and Sallie Pfaff Pratt.
Laurie graduated from R. J. Reynolds High School and studied music at Atlantic Christian College in Wilson, N. C.
She began her singing career as a teenage soloist at Fourth Street Christian Church, and continued to study music in Winston-Salem and New York.  She studied voice and operatic roles, and performed in the Puma Opera Company.
She won first place on the program, "Stars of Tomorrow," sponsored by Station WHOM in New York.  She traveled to Italy and studied  there for several years and performed in several operas, often as the lead soloist.  She was the soprano soloist for "Messiah" at St. Paul's American Church in Rome.
Her operatic career was cut short by a severe illness.
She also worked for the Flying Safety Department of the U. S. Army Air Corps, Macy's, American Air Lines, and at CBS with Edward R. Murrow.
Laurie passed away in 2012.
The above photo is from the 1940 R. J. Reynolds High School yearbook.
Photo courtesy of Forsyth County Public Library Photograph collection.