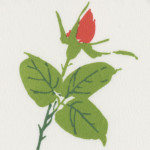 Mary Sussdorf Prather was born on this day in 1848, in Salem, to Christian Frederick and Louisa Sussdorf.
She graduated from Salem Academy in 1866, and continued her studies at Moravian Seminary for Women at Bethlehem, Pennsylvania.  She taught voice at Salem Academy for three years before her marriage to J. Frank Prather in 1870.
Mary Prather was the first head librarian at the Carnegie Library in Winston-Salem.  She worked at the library from its opening in 1905 until 1913.
She was a member of Home Moravian Church, and later joined Calvary Moravian Church as a charter member.  Mary served in many areas of church work, such as organist, choir member, teacher, Women's Auxiliary president, and Missionary Society member.
Mary passed away in 1939.