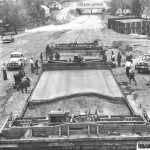 On this day in 1960, the Winston-Salem Journal announced that construction crews are preparing to join the new pavement of the eastern section of the Interstate Expressway, with the old pavement of the central section, now in use.
The meeting place for the sections is between South Main and South Liberty Streets.
Paving of the eastern section is progressing, and is expected to be open this fall.
Meanwhile, paving is nearing completion on the western extension.
The photo above shows some of the paving that was done on Interstate 40 near the Broad Street bridge, looking east.
Photo courtesy of Forsyth County Public Library Photograph Collection.