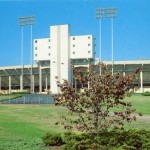 On this day in 1966, ground was broken for the new Groves Stadium for Wake Forest University.
This was not the first Groves Stadium associated with Wake Forest.  The first Groves Stadium was built on the old Wake Forest College campus in Wake Forest in 1940.  It seated 29,000 people and cost $105,000.  It was named for Henry Herman Groves Sr., president of Groves' Thread Mill of Gastonia.
The new Groves Stadium was dedicated in 1968, and was named to honor Henry Herman Groves Sr., and his brothers, Earl E. Groves and L. Craig Groves.
The stadium was enlarged in 2008, adding seats, amenities, and the Deacon Tower.
Photo courtesy of Molly Grogan Rawls.