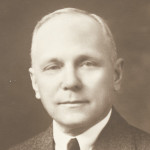 George William Coan Sr. was born on this day in 1867, in Virginia, to John O. and Mary Jones Coan.
George graduated from Poughkeepsie Business School in New York at the age of 16 years old.  When he was 20 years old, he entered the tobacco business in Virginia.  He moved to Martinsville, where he organized and became cashier of First National Bank of Martinsville.  He entered the tobacco business when he purchased the W. A. Brown business, which was founded by his father-in-law.
He sold the business to the R. J. Reynolds Tobacco Company and moved with his family to Winston-Salem.  He became the private secretary to Mr. R. J. Reynolds, and later he was elected assistant secretary and treasurer for the company.  He served as a director, secretary and treasurer of the company, and left in 1915 because of poor health.
George joined with his son, George W. Coan Jr., in 1917 to organize the Morris Plan Bank in Winston-Salem.  He maintained active participation in the organization for 11 years, when he and his son sold their controlling stock.
George was a member of First  Presbyterian Church, and was a member and former president of the Twin City Club.
He was married to Loula Brown Coan, and both he and Mrs. Coan passed away in 1939.
Photo courtesy of Forsyth County Public Library Photograph Collection.