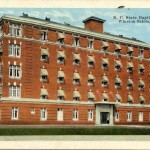 On this day in 1923, Baptist Hospital opened.  It consisted of just one building, as shown in the postcard above.  The building was five stories tall, with 88 beds and 20 bassinets.
The Hospital Commission of the Baptist State Convention chose Winston-Salem as the site for a new hospital in North Carolina.
The hospital was dedicated one week later.
Many additions and renovations have taken place since 1923,  and the hospital continues to grow in the Ardmore neighborhood.
Photo courtesy of Molly Grogan Rawls.