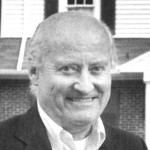 James Paxton Davis Jr.  was born on this day in 1925, in Winston-Salem.
Paxton, as he was called, graduated from R. J. Reynolds High School and Johns Hopkins University.  He joined the staff of the Twin City Sentinel in 1949.  He also worked for the Winston-Salem Journal and the Richmond Times-Dispatch.
Davis taught journalism at Washington and Lee University from 1953 to 1968, and headed the university's journalism and communications department from 1968 until he retired in 1976.
Davis wrote a trilogy about growing up in the Buena Vista neighborhood in Winston-Salem.  The books are "Being a Boy," "A Boy's War," and "A Boy No More."
Davis also wrote 7 other books and was working on his 11th book when he passed away in 1994.