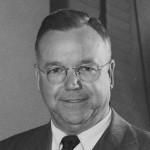 Dr. Coy C. Carpenter was born on this day in 1900, in Carpenter, Wake County, to Rufus and Betty Carpenter.
He graduated from Cary High School and Wake Forest College, and received his M. D. degree from Syracuse University College of Medicine.  He was resident pathologist and internist at Syracuse University, then he joined the Wake Forest faculty.  He was vice-president of medical affairs at Wake Forest University when he retired in 1967.  And, he was vice-president emeritus for medical affairs and professor emeritus of pathology at the time of his death in 1971.
Dr. Carpenter was the first and only dean of the Bowman Gray School of Medicine until he became vice president in 1963.
He held a distinctive position because of his involvement in the Bowman Gray School of Medicine, because he presided over the school's move from a two-year school in Wake Forest, NC, to a four-year school at Baptist Hospital.  He was also involved in Wake Forest's move to Winston-Salem in 1956.  He wrote a book about the medical school, titled "The Story of Medicine at Wake Forest University."  And, he wrote a book about the history of Wake Forest University that was in the process of being published at the time of his death.
Dr. Carpenter traveled abroad several times as a visiting professor and as a consultant on medical education.  The Eisenhower administration asked him to visit Vietnam to study the medical school and health needs of the country.
He was active in professional and community activities.  He organized the Wake Forest Rotary Club, served as a trustee of Baptist Hospital, was a director of the Chamber of Commerce, and belonged to local and national medical societies.
Photo courtesy of Forsyth County Public Library Photograph Collection.