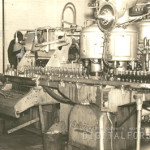 On this day in 1931, the Dr. Pepper Bottling Company held its formal opening at 332 Reynolda Road.
Visitors were shown around the plant in the evening, and saw the modern bottling equipment and witnessed a demonstration of how Dr. Pepper is bottled and prepared for selling.
The company was founded and owned by brothers Joe and Tom Rice.
An orchestra played music during the open house, and visitors had a chance to join the 10-2-& 4 Club, complete with cards and buttons.
The photo shows the interior of the Dr. Pepper Bottling Company in 1938.
The company later became Northwest Beverage Company.
Photo courtesy of Forsyth County Public Library Photograph Collection.