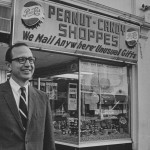 The Winston Nut and Candy Shop opened on this day in 1960.   The shop was located at 120 West Fourth Street.
The business was owned by Milton Burton who came to Winston-Salem from Richmond, Virginia.  The shop handled imported and domestic nuts and a complete line of Old Dominion candies.  He also added a line of toys and novelties.
The above photo was taken in 1968, showing the shop in the background.  The man at the left side is James Haley, and he was photographed for another purpose.
Photo courtesy of Forsyth County Public Library Photograph Collection.