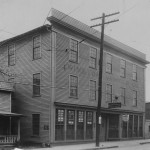 Joseph Oliver White was born in Winston in 1860 to James Alexander and Louisa Marion Carmichael White.
His father owned a buggy business, White's Buggy Shop, and Joseph became a partner in the business in 1881.
When the first automobile came on the local scene shortly after the turn of the century, Joseph was the man who serviced that vehicle.  The buggy-maker had to enter the garage business or go out of business.   The firm of J. A. White and Son later became Winston Vehicle Company.
White was a charter member of the Wachovia Lodge, Knights of Pythias.
White was president of Winston Vehicle Company at least until his 80th birthday in 1940.  He passed away just a week short of his 90th birthday in 1950.
The photograph above shows Winston Vehicle Company at 958 North Liberty Street, circa 1930.
White & Baynes photo from 1906 Winston city directory.  Winston Vehicle Company photo courtesy of  Forsyth County Public Library Photograph Collection.