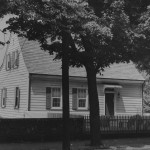 Restoration of the "Fourth House," the fourth house erected after the Moravians settled in Salem, has been completed by the Colonial Dames of North Carolina.  And, public inspection of the house was set for this date in 1940.
The Fourth House is located across the street from the Belo House on South Main Street.  The restored house had already been rented, so the preview was a one-day-only event.
Dr. Adelaide Fries, archivist for the Moravian Church of America, prepared a sketch on the Fourth House for the publication, "Some Historic Houses."  She described the house in detail from its earliest days.
The house was built in 1767, and constructed almost completely of Salem manufactured materials.   Charles Holder was the first long-time resident in the house, which was rented from the Moravian Church.  Holder was a saddle-maker, and moved to the Fourth House when he married.  The church sold the house in 1858, and the new owner made a few changes, and even moved it slightly on the lot.
Photo courtesy of Forsyth County Public Library Photograph Collection.