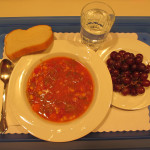 Winston-Salem's first free soup kitchen in more than 50 years opened on this day in 1981.  The city had a soup kitchen at the start of the Great Depression in 1930, but it was discontinued after a short  time when other agencies began helping people who were out of work
Named the Samaritan Soup Kitchen, it is located at 1243 North Patterson Avenue.  On the first day, the soup kitchen served 26 people from 11 am to 1 pm.  The meal consisted of pizza sandwiches on English muffins, vegetable soup, apple juice and coffee.
The soup kitchen was operated under the Crisis Control Ministry.  The Rev. J. S. Hawkins, associate pastor of First Presbyterian Church, was director of the kitchen's executive committee.  He said that the new soup kitchen has (in 1981) about 150 trained volunteers.
Baptist Hospital loaned the building for the project, and the Kate B. Reynolds Poor and Needy Fund gave $8,190 to renovate the building.
In 2011, Samaritan Ministries celebrated the 30th anniversary of continuous operation for the soup kitchen.  At that time, the number of people served had risen to about 301 people per day.  It also included a 69-bed homeless shelter called Samaritan Inn, and Project Cornerstone, a residential substance-abuse recovery program.
The ministry served the 3 millionth meal in 2010.
Photo by Molly Grogan Rawls.