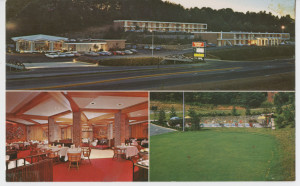 On this date: January 4, 1962. The new Parkway Chalet Motor Lodge, located on Peter's Creek Parkway, was dedicated today. The new motor lodge was located off Interstate 40 at 600 Peters Creek Parkway. It featured "90 luxurious rooms, complete hotel services, television, executive suites, convention and meeting rooms, direct-dial telephones, pool and putting green, tap room, and the Alpine Room Supper Club for dining and dancing."
There was a time when there were no motel accommodations in Winston-Salem that belonged to a widely-known organization, with one exception being the Kembly Inn. Kembly Inn belonged to United Quality Courts and was located on Cloverdale Avenue. Howard Johnson, the first large motel chain to come to town, opened their facility on Stratford Road in 1960.
1962 was a big year for opening motel units in Winston-Salem. The other units that opened in this time, in addition to Parkway Chalet, were: Greystone Motor Lodge (650 W. Fourth Street), Towne House Motor Lodge (Highway 52 N.), Holiday Inn (127 S. Cherry St.), and Tanglewood Motor Lodge.
Other motor lodges in the area were Salem Manor, Myer-Lee, Beacon Hill, Blue Bird, Corvette, Green Valley, and Winston. The total of motor lodge rooms in 1963 was 691, an increase of 429 rooms since 1960. This number decreased in 1963 when Kembly Inn was sold to Baptist Hospital.