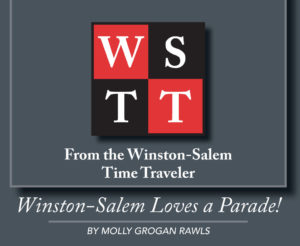 Find a copy of the November 2017 issue of Forsyth Woman Magazine and read the Winston-Salem Time Traveler column on page 80.  This month's feature is "Winston-Salem Loves a Parade!"
From Civil War Veterans to firemen to the Armed Forces to cheerleaders…spectators lined the city streets to clap and cheer for their friends and neighbors who marched or rode down the street in a parade.  Read about some of the parades that have drawn crowds to the downtown streets to witness celebrities and home folks celebrate special occasions.
Be sure to see the photo of the tiny bride and groom atop a Dewey's cake riding atop a station wagon in a Christmas parade!
Stay tuned for the historical next post on November 15th: "Do you remember…highway coffee breaks?"