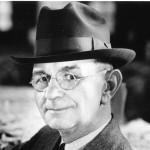 Henry Straughan Stokes was born on this day in 1880, in Virginia, to Colin and Florence Turpin Stokes.
Henry attended the local schools in Prince Edward County and Randolph Macon Academy.  He earned a bachelor of arts degree in 1900 at Hampton-Sidney College.
He came to Winston-Salem in 1900 and worked for R. J. Reynolds Tobacco Company.  He was employed by R. J. Reynolds Tobacco Company for 47 years, and was superintendent of leaf processing when he retired in 1947.  He was a member of the Board of Directors.
Henry was also one of the founding directors of First National Bank in 1934.  The bank merged with North Carolina National Bank.  He was president of the bank from 1948 to 1951, chairman of the executive committee from 1951 to 1957, and he was chairman of the board from 1957 to 1960.
He was also active in the leadership of the North Carolina Baptist Orphanage at Thomasville, and served as a member and a deacon at First Baptist Church.  He was involved in several community organizations.
Henry was married to Eloise Brown Stokes, and he passed away in 1962.
Photo courtesy of Forsyth County Public Library Photograph Collection.