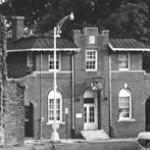 The new Salvation Army home was dedicated on this day in 1923.  This was the first permanent home of the Salvation Army in Winston-Salem.
The new building was located on Second Street, near Liberty Street.  The new facility was named in honor of Edward W. Dixon. Dixon was responsible for raising $30,000 for the building and passed away two months before the dedication.
Mayor James G. Hanes laid the cornerstone.  Contents of the cornerstone included: copies of the local newspapers, a copy of the Armistice issue of the War Cry (Nov. 10, 1923),  a copy of the dedication service program, a photo of the general of the Salvation Army, and other photographs and documents.
The building was still under construction at the time of the cornerstone laying and dedication.
The photo above shows the Salvation Army home in 1970.
Photo courtesy of Forsyth County Public Library Photograph Collection.