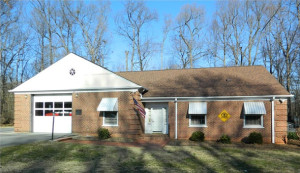 On this day in 1957, 1200 people toured the new Engine Company No. 8 of the Winston-Salem Fire Department  at 2417 Reynolda Road.
Mayor Marshall Kurfees, City Manager John Gold, Fire Chief Dixon, and Police Chief James Waller participated in the ceremonies officially opening the new station.
The 14 men assigned to the new station conducted tours and explained firefighting equipment.  Members of the fire patrol also demonstrated the use of radar equipment for clocking speeding motorists.
Captain Raymond A. Overby was the commanding officer of the station.
Photo from the City of Winston-Salem website.