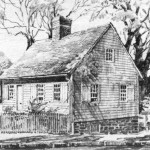 Anna Catharina Antes Kalberlahn Reuter Heinzmann Ernst was born on this day in 1726, in Pennsylvania, to John Henry and Christina Elizabeth Dewek Antes.
Anna Catharina came to Bethabara in 1758 with her husband, Dr. Hans Martin Kalberlahn.  He died the following year from a fever epidemic.
She married Philip Christian Gottlieb Reuter, a surveyor,  in 1762.  He built a house for them on Main Street in Salem (drawing shown above).  It was the first house to be built in Salem with a timber frame, rather than logs or half-timbering.  The house had a central chimney plan, with three rooms on the main floor.  He used one of the rooms for working on his maps.  He died in 1777.
Anna Catharina married Casper Heinzmann in 1780.  Heinzmann was the pastor of Friedland Moravian Church.  He passed away in 1783.
She next married Jacob Ernst in 1786.  Ernst was the pastor of Bethabara Moravian Church.  He passed away in 1802.
Anna Catharina held responsible positions in the Moravian Church, and she served in the churches with her husbands as deaconess and trusted advisor.
Her house was converted to the Widow's House, and Anna Catharina returned to the house after the death of Ernst.  She lived there until her death in 1816.  The house was moved to the back of the lot when John Vogler bought the lot after her death.  He built his house at the front of the lot, and the Anna Catharina house was used by John Vogler until his house was finished.  The house still stands today in Salem, being dismantled in 1947 and reconstructed in 1954.
The life of Anna Catharina was the basis of a fictional memoir, "The Road to Salem," written by Dr. Adelaide Fries.
Photo courtesy of Forsyth County Public Library Photograph Collection.