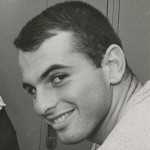 Louis Brian Piccolo was born on this day in 1943, in Massachusetts.  He attended Central Catholic High School in Ft. Lauderdale, Florida.
He came to Winston-Salem when he enrolled at Wake Forest College.  He played football and was awarded many honors, such as the most valuable player for two years.  He won the Arnold Palmer award as Wake Forest's athlete of the year and he was named the Atlantic Coast Conference football player of the year.
After his senior year, Piccolo was not drafted, so he joined the Chicago Bears as a free agent.  When Gale Sayers was injured in 1968, Piccolo played the last four games of the season and part of the 1969 season.
Piccolo was diagnosed with cancer and underwent treatment, which included surgery and cobalt treatments.
Piccolo passed away in 1970.  He was survived by his wife, Joy Murrath Piccolo, and their three daughters.
A book was written about Piccolo's life titled Brian Piccolo: A Short Season.  A movie was made from the movie, called Brian's Song.
Photo courtesy of Forsyth County Public Library Photograph Collection.