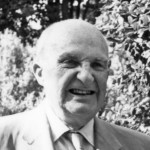 James Gordon Hanes Sr., known as "Jim,"  was born on this day in 1886, in Winston-Salem.   He was one of eight children, six boys and two girls,  born to John Wesley and Anna Hodgin Hanes.
When Jim was born, the name "Hanes" was significant in the tobacco business, since his father was part of the P. H. Hanes Tobacco Company.  P. H. Hanes sold the business to R. J. Reynolds about 1900, and P. H. Hanes opened the P. H. Hanes Knitting Company.  His brother, John Wesley, was part of the textile company, and he began to make men's and infant's hose.
John Wesley Hanes, Jim's father, died in 1903.  After Jim returned to Winston-Salem in 1909, from studying at UNC, he began working in the hosiery mill.  The company was renamed Hanes Hosiery, and the move was to manufacturing women's hosiery.  At first, the mill was not profitable, but Jim's management style gradually led to increasing profits and positioning in the hosiery market that made Hanes the largest producer of seamless hosiery.
In addition to his work with Hanes Hosiery, Jim was very active in civic affairs.  He served as an alderman from 1917 to 1921, as mayor from 1921 to 1925, and was on the board of commissioners from 1928 to 1950.  During his two terms as mayor, the city built five schools, three new fire stations, four major public buildings, and a large addition to City Memorial Hospital.   The city also built and improved parks and playgrounds, enlarged its system of streets, water and sewer lines, and annexed several areas to make Winston-Salem the largest city in North Carolina, at least for a time.
Jim also helped raise money for many civic groups, such as the Red Cross War Fund Campaign, the building fund of Centenary Methodist Church, the YWCA, and the campaign to move Wake Forest to Winston-Salem.
Jim was a sportsman who enjoyed playing baseball while in college.  He played polo in the 1920s on the Winston-Salem team.  He particularly liked hunting and fishing, favoring salmon fishing in Canada.
When a community center was built in 1958 to house the United Fund, Arts Council and Chamber of Commerce, it was named the James G. Hanes Community Center.  Mr. Hanes was recognized for his public service, and he had been a board member for all three of the agencies.
Jim was married first to Emmie Drewry, and second to Mary Walton Ruffin.  Both of his wives predeceased him.
In 1966, on the occasion of his 80th birthday, Jim was honored with a formal dinner and dance at the home of his son, Gordon Hanes.  The next day, Jim held a luncheon for family and friends at his home.  Both events were held outside, and one table held ice sculptures which spelled out "Jim" and "80."  Photos of the party at Jim's house are shown below.  One photo shows Jim and Gordon's family.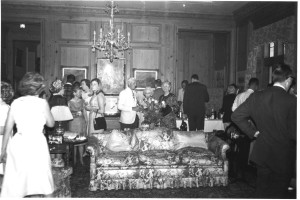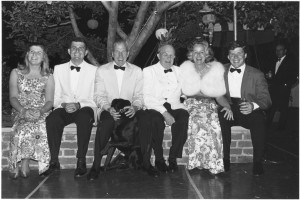 Jim passed away in 1972.  His home is now the home of SECCA.
Photos courtesy of Forsyth County Public Library Photograph Collection.