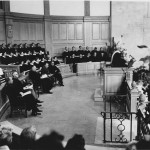 After years of design and construction, Wake Forest College was officially a resident of Winston-Salem.
On this day in 1956, Wake Forest College was dedicated in its new location.
Ceremonies took place in Wake Chapel, with speeches by many of the people who played a part in bringing the school to Winston-Salem.
Photo courtesy of Forsyth County Public Library Photograph Collection.