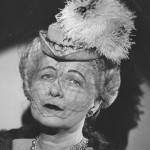 Audrey Clore LeGrand was born on this day in 1895, in Virginia, to John N. and Frances Burger Clore.
Audrey graduated from Virginia College in Roanoke, where she majored in organ and voice.  She also attended Salem College, and later taught voice there for eight years.  She toured North Carolina as a recitalist, and was a soloist for musical events, such as the "Messiah."  And she was a soloist for Centenary Methodist and Brown Memorial Baptist Churches.
Audrey was a charter member of the Mozart Club and a member and past president of Rural Hall Women's Club.
Audrey was married to Eugene F. LeGrand.
She taught voice and piano at Rural Hall School for 40 years, and taught voice and piano at her home.
Audrey was also a model for various department stores, and modeled hats particularly well.  The photo above shows Audrey modeling a hat for a feature in the newspaper.
She passed away in 1983.
Photo courtesy of Forsyth County Public Library Photograph Collection.