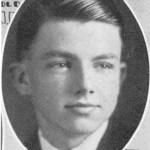 George Cashel Stoney was born on this day in 1916, in Winston-Salem, to Rev. G. H. C. and Katherine Crenshaw Stoney.
George graduated from R. J. Reynolds High School and UNC-Chapel Hill.  He studied at Oxford, and went to work in New York, and became associated with the publicity department of the Henry Street Settlement.
George was the author of a series of articles about the South, as a part of his work with the Carnegie Foundation in New York City.  The series appeared in the "Survey Graphic" magazine of social interpretation.  This was the first of many articles written by Stoney about the South.
George served as a photo intelligence officer in World War II.  After the war, he joined the Southern Educational Film Service as a writer and director.
Stoney made over 50 documentary films during his career, including one named "All My Babies," which received numerous awards.  He was also involved in teaching citizens the tools of video production.  For his work in this new medium, he is called the "father of public-access television."
George was a professor at New York University's Tisch School of the Arts from 1971 until his death in 2012.
The photo above shows George as a R. J. Reynolds High School senior in 1933.
Photo courtesy of Forsyth County Public Library Photograph Collection.