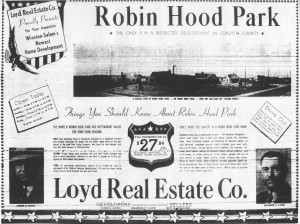 On this day in 1940, Loyd Real Estate Company held the opening of Robin Hood Park.  Four completely finished homes and six homes nearing completion were shown.
At the time of the opening, Robin Hood Park was the only FHA restricted development in Forsyth County.
Plans were to build 40 houses, in units of 10 houses at a time, each one individually designed for modern living.  Each house has automatic oil burning air-conditioned heat and rock wool insulation.  Kitchens have all-steel built-in cabinets and electric table-top water heaters.  Each house will have six rooms, including living room, dining room, two bedrooms, kitchen, bath, and utility room.  The houses are built on one level, with a garage attached.  Each lot measures nearly one-half acre.
In this neighborhood, the original purchase price guarantees for the buyer that the power will be turned on, furnace and water heater installed, yard landscaped, and walkways and driveways laid.  The houses will bear a price-range which is not expected to exceed $5,000.
The neighborhood is located on Robin Hood Road, just beyond Mt. Tabor Methodist Church.  In 1940, the development was two and a half miles beyond the city limits.  One selling point for these homes was that they offered the advantages of country life with the conveniences of the city.
Loyd Real Estate was operated by Luke S. Loyd and his son, Kramer C. Loyd.  One of the streets in the Robin Hood Park development is Kramer Avenue, possibly named for Kramer C. Loyd.  Another street in the neighborhood is Woodrow Avenue, named for another son.   Luke Loyd lived at 4046 Robin Hood Road, at the edge of the new development.