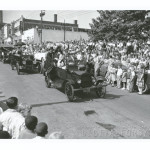 On this day in 1949, Winston-Salem residents and visitors were treated to a parade celebrating the 100th anniversary of the formation of Forsyth County.  At the end of the parade route, a review stand at City Hall featured local officials and celebrities on hand to join in the festivities.
Centennial events were in the planning for over a year before the May 1949 celebrations.
While the centennial  parade was one of the largest events, the celebration also included the burying of a time capsule, an historical  drama, a special worship service, a train trip to Wilmington, and special newspaper supplements.
Men got into the act by growing beards, to become part of the "Bushgrowers."  Women lent their sewing talents to making clothing in an 1849- style for all types of events, including the parade.
Several authors/historians wrote a history of Forsyth County which was publish the previous month.
Many photographs were taken of the events mentioned here, and can be seen at www.digitalforsyth.org.
Photo courtesy of Forsyth County Public Library Photograph Collection.