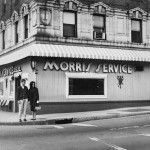 Morris Service Restaurant opened in 1930 on the corner of West Fourth and Marshall Streets.
The restaurant was named for its first operator, a Mr. Morris, who sold it to Howard Lee within a year.
Warner Collier purchased the business in 1944 and operated it until 1964, when George Cortesis and Paul Rogatsios bought it.  An article in the Twin City Sentinel on this date in 1964 announced the sale that would take place the following week.
One feature of the restaurant, in addition to its delicious food, was the small jukebox on each booth table, where music could be selected without leaving the booth.
Photo courtesy of Forsyth County Public Library Photograph Collection.