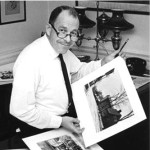 Frank Buxton Jones Jr. was born in Winston-Salem in 1914, to Frank Buxton and Carrie Keith Jones Sr.  He was born in his grandfather Keith's house on Brookstown Avenue.
Frank graduated from R. J. Reynolds High School, and worked for Barber Photo Supply before he joined the Winston-Salem Journal in 1937 as a staff photographer.  He served in the Navy during World War II as a photographer, and he made training films.  Frank worked for the newspaper until his death in 1975.
During his many years with the newspaper, Frank photographed the people, places and events of day-to-day life in Winston-Salem.  He was often called upon to photograph special groups and special events, and became known as an excellent photographer, and won awards for his photography.  He also taught courses in photography throughout the state.
Frank was known to always have at least one camera at hand wherever he went.  He could often be seen at sporting events, parades, celebrations, and dedications, always covering the events with his cameras.  And, as a hobby, he would travel into the mountains or to the beach and make photographs there as well.
Frank was very conscious of the fact that his photographs were recording the history of the city, and he sought other historical images to add to his collection.  His images were used for historical displays and for special occasions, such as the 1966 anniversary of the establishment of Salem.
At his death in 1975, Frank's photographs were willed to the Wachovia Historical Society.  They were later given to the Forsyth County Public Library on permanent loan, where they reside today.  Many of Frank's photographs can be seen on the library's website at www.digitalforsyth.org.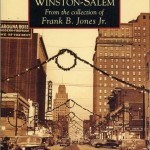 Frank's life and photographs are featured in the book Winston-Salem: From the Collection of Frank B. Jones Jr., by Molly Grogan Rawls.
Photo courtesy of Forsyth County Public Library Photograph Collection.