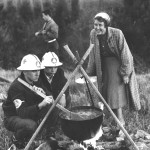 On this date in 1955, a 24-siren air raid test startled  citizens, making Winston-Salem the first city in North Carolina to get its air raid sirens in full working order.
Robert W. Gorrell, Civil Defense Director, said the tests were very satisfactory.  He explained that the goal of the present alarm system is to get people off the street – not out into the street.
In order to keep the sirens in working order, and to familiarize the public with the sound, the sirens will be operated at noon every Saturday, beginning February 26th.  The control panel for the sirens is located at Fire Station No. 2.  This siren rang out on Saturday for many years, referred to as the "twelve o'clock siren."
The photo shown above was taken at a test of the community's civil defense procedures.  A simulated mock emergency took place in 1957, and the photo shows explorer scouts and a Red Cross representative  during the mock emergency.
Photo courtesy of Forsyth County Public Library Photograph Collection.