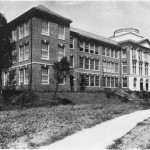 On this date: January 15, 1923.  Students moved into the new R. J. Reynolds High School.  The fire at the City High School on January 9th prompted quick action to make Reynolds High School operational several months earlier than planned. 
Some students thought the school year was over for them, but students and faculty pitched in to help with some of the construction.  Several organizations and churches offered their buildings as temporary classes.
Twenty rooms were useable in the new structure, and boardwalks were fashioned for students to walk over the mud into the new school.  Seniors perhaps had the biggest shock to find out they were the first graduating class from R. J. Reynolds High School, rather than the last graduating class from City High School.
Photo courtesy of Forsyth County Public Library Photograph Collection.