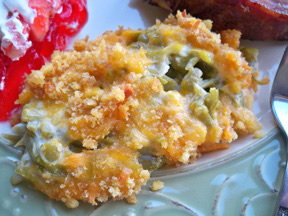 Bonnie's Green Bean & Corn Casserole
Ingredients:
2 14.5 oz. cans French-style green beans, drained
1 15.25 oz. can shoe peg corn, drained
1 can Cream of Celery soup
1 cup shredded Cheddar cheese
½ cup melted butter
2 cups crushed Ritz crackers
Dried minced or freshly chopped onions, to taste
Directions:
In a small mixing bowl, toss the crushed Ritz crackers with 1/2 cup melted butter.
In a large mixing bowl, combine the soup and the cheese. Add the green beans and the corn and mix well.  Pour the mixture into a greased baking dish.  Top with the buttered Ritz crackers.
Bake at 350 degrees for 30 minutes.
Note: There are similar recipes that use 1 cup sour cream in addition to the other ingredients.  Also, some recipes use much fewer Ritz crackers just around the edges of the top of the casserole.  So experiment a little to customize the casserole to your tastes.
 Enjoy!