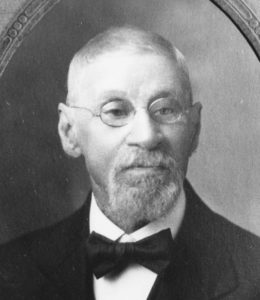 Moravian, or Advent, stars are identified with Winston-Salem and are frequently seen in home and downtown decorations.  The handmade stars were originally made in Germany, but local history credits Julius A. Lineback (shown above) with making the first stars in Salem.  Julius (1834-1930), called the "star-maker," found two wooden star molds in his office and experimented with them until the result was a star with 26 rays.
Julius's son, Harry (1867-1965) (shown above), inherited his father's fascination with the stars and continued the tedious tradition.  His sister, Caroline (1880-1974), shows one of the family's Moravian stars.
A letter to the editor of the Winston-Salem Journal prompted city officials to consider using the Moravian star in the city's Christmas decorations.  On November 27, 1959, 64 large Plexiglas Moravian stars were lighted downtown to begin the Advent season, reminding citizens of Winston-Salem's unique heritage and of the timeless message embodied in the Advent star.  Photographer Jim Keith captured this well-positioned view of the Moravian star street decoration atop the Reynolds Building.  Another Jim Keith photograph features a downtown view of West Fourth Street looking east near Marshall Street, again with the Moravian star situated at the top of the Reynolds Building.
Moravian stars can be found both inside and outside during the Christmas season.  Danny Culler and his dad, C. Ed Culler, admire the star in 1954 in a store.  And the Advent wreath is a popular decoration in many homes, shown here in 1962.
In 2016, Moravian stars appear in our downtown street decorations, in street flags, atop the Baptist Hospital, and over the front doors of our Moravian churches, just to name a few of the places for Moravian star sightings.
Black & white photographs courtesy of Forsyth County Public Library Photograph Collection.  Color photos by Molly Grogan Rawls.
Next WSTT post on December 8th.