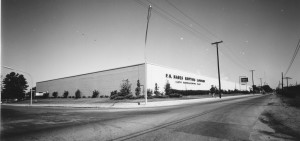 Stratford Road continually changes its look as businesses come and go.  The latest construction project involves the former Hanes Knitting Company location at 700 S. Stratford Road.
The Hanes Knitting Company building was demolished, and is being replaced by a variety of businesses, from a bank to fast-food restaurants to small businesses.
The photo above was taken in October 1961.  Courtesy of Forsyth County Public Library Photograph Collection.
The photo below shows the location with buildings completed and under construction, in the distance.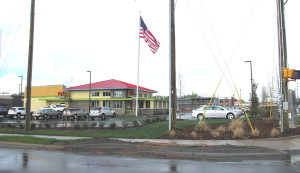 Photo by Molly Grogan Rawls.