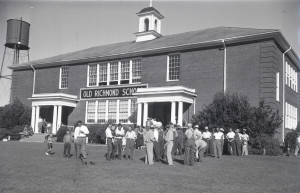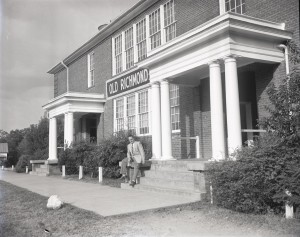 Photos of Old Richmond School, taken in the 1950s, were recently added to the photo files of the Forsyth County Public Library Photograph Collection.  They were taken by newspaper photographer, Bill Ray, and are part of his photo collection that he donated to the library a few years ago.  The  negatives were scanned, and are shown here for the first time.  Please share the link with anyone who might have an interest in Old Richmond School.  And, please share the identification (if known) of the man who is seated on the step in the exterior view of the building.  Could he be former principal, John Wood?
Enjoy the photos of about 63 years ago!
The website for Old Richmond Elementary School contains a good history of the school and the different school buildings, including the 1923 brick building shown in these photos.  Read more about the building at http://www.wsfcs.k12.nc.us/Page/31265.
The following photos show Old Richmond School today, including the current school and the arch with the 1924 date, the old schoolhouse, and the gymnasium.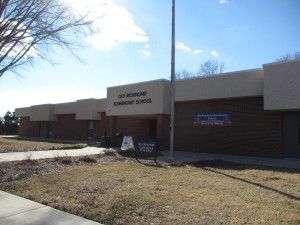 Black and white photos courtesy of Forsyth County Public Library Photograph Collection.  Color images courtesy of Molly Grogan Rawls.