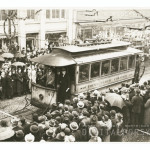 Charles K. Norfleet was general chairman of the Romance of Transportation parade, held on this day in 1936.  The parade marked the end of the city's 46-year-old streetcar system.
Wearing raincoats and holding umbrellas, spectators lined Liberty Street to see every type of vehicle imaginable roll past.
Standing at the front of the streetcar, shown in the photo above, was Henry E. Fries.  He was instrumental in bringing the streetcar system to Winston-Salem.  Riding with him in the car were motormen with 30 or more years of service.
In addition to the streetcars, other vehicles in the parade included an ox cart, several generations of fire trucks, the Salem stage coach carrying women dressed in antebellum attire, bicycles, Model Ts, and a hearse.
Immediately following the streetcar were the new buses, one of which carried the Exchange Club band, playing music as the city bade the streetcar farewell.
To see more photos of the Romance of Transportation Parade, search www.digitalforsyth.org with search terms: transportation parade 1936.
Photo courtesy of Forsyth County Public Library Photograph Collection.