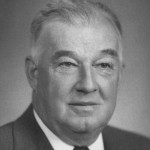 Frank L. Blum was born on this day in 1891, in Winston-Salem, to Dr. James A. and Lizzie Wilson Blum.
He attended the local schools and as a teenager he worked in the engineering department of the Winston-Salem Southbound Railway Company.  During the World War I period, he was in the engineering department of the E. I. DuPont de Nemours in Virginia.
Frank returned to Winston-Salem in 1922 to work on the construction of R. J. Reynolds High School.  He decided to remain in Winston-Salem, and he established the Frank L. Blum and Company in 1923.
The list of structures erected by his company in Winston-Salem is extensive, and includes many businesses, such as McLean Trucking Company, H. L. Green and Company, Hanes Dye and Finishing Company, Rominger Furniture Company plants, and Pepsi-Cola Bottling Company.
Some of the public edifices erected by the company are Salem College Library and Gymnasium, Children's Home Gymnasium, Red Shield Boys Club, and Atkins High School.
His company also built the Glade Street YWCA building, the Forsyth County Jail, the Memorial Coliseum, and built numerous houses in Winston-Salem.  He also completed restoration work on buildings at Old Salem.
Frank was a member of the Kiwanis Club and the Twin City Club.  He was an active member of Centenary Methodist Church.
Frank was married to Helen Woolley, and he passed away in 1954.
Frank L. Blum Construction Company has carried on and thrived, even though its leader died unexpectedly.  The company celebrated its 90th anniversary in 2013.
Photo courtesy of Forsyth County Public Library Photograph Collection.