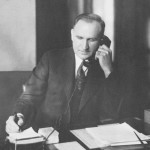 Claude Reuben "Pop" Joyner was born on this day in 1896, in Yadkin County, to Samuel H. and Syniscal Sprinkle Joyner.
When he was old enough, he farmed a little, but decided that he didn't want to farm for a living.  He attended a local school that included children of all ages.  He went to Yadkinville High School and worked for the money required to attend school.
He served in the United States Navy during World War I.  He attended the University of North Carolina and studied math.  He also pitched for the baseball team and he played local pro baseball for five years, but his pitching arm went bad.
After his graduation in 1920, he planned to stay in Chapel Hill and teach math.  But he heard about an opening in Winston-Salem for a math teacher who could also coach.  So he came to Winston-Salem and coached baseball, football and basketball, and taught, for 13 years.
He married Lytle Mackie, also from Yadkin County, in 1923.
He became principal of R. J. Reynolds High School in 1933, and stayed in that position until his retirement in 1962. Claude Reuben Joyner was called "Pop," by students and others in the community.  He later admitted that he considered it to be an affectionate term, and liked it.  However, his students used this nickname behind his back.
Pop managed R. J. Reynolds High School with a firm hand.  He had a high regard for education, and wanted students to take their opportunities seriously.
He remained interested in sports, and wrote the constitution and by-laws for the N. C. High School Athletic Association.  He also helped build the baseball field at Hanes Park.
At his retirement in 1962, his students gave him a color television.  Friends established a fund in his honor to help needy students to stay and finish high school, and they asked Pop to be a director.
Pop was a member of First Baptist Church, where he was a deacon and taught Sunday School.
He passed away in 1985.
The photo above is from the 1940 R. J. Reynolds High School yearbook.
Photo courtesy of Forsyth County Public Library Photograph Collection.