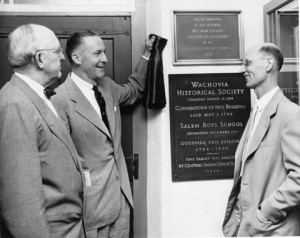 The Wachovia Museum was dedicated on this day in 1954.  The museum was housed in the former Salem Boys School on the corner of Main and Academy Streets.
Many dignitaries and former students of the school attended the festivities and admired the treasures collected and maintained by the Wachovia Historical Society, which was organized in 1895.
P. Huber Hanes (left), R. Arthur Spaugh (middle), and Dr. Frank Albright gather for the unveiling ceremony, shown in the photo above.
Photo courtesy of Forsyth County Public Library Photograph Collection.